Enterprise Search Engine Optimization Tools
Search engine optimization (SEO) is a nebulous concept for many organizations. Best practices are always changing (thanks, Google), and what worked well back in 2010 might earn you a website penalty today. Luckily, enterprise SEO tools make it so you don't have to figure out everything on your own. Between keyword research, content analysis, and traffic reports, these solutions help you improve your page performance and pull in more traffic.
To find the best SEO and web analytics tools for your business, check out our Product Selection Tool. After filling out a short survey about your company's needs, we'll provide a few customized software recommendations.
What are enterprise SEO tools?
Enterprise SEO tools are all-in-one platforms that combine solutions for keyword research, technical site audits, content optimization, backlink management, and competitor analysis to provide a single console for improving web rankings. These platforms often include features to improve pay-per-click (PPC) performance as well. If enterprises tried to keep track of all the information that these suites provide with individual management tools, their workflows would quickly get out of control. Plus, the APIs they'd need to connect them all would require a lot of developer time to create and maintain.
SEO is crucial to driving traffic to your website and increasing sales through organic (unpaid) means. Without good SEO, search engines won't be able to determine whether your content is valuable for their users, and they'll likely push you way down the list.
Also read: SEO Techniques to Know for 2021
Compare the top enterprise SEO solutions
| | | | | | |
| --- | --- | --- | --- | --- | --- |
| Product | Backlink Management | Listing Management/Local SEO | View Competitor Ads | Content Optimization | Page Speed Analysis |
| Semrush | Yes | Yes | No | Yes | No |
| seoClarity | Yes | No | No | Yes | Yes |
| Moz Pro | Yes | No | No | No | No |
| BrightEdge | Yes | Yes | No | Yes | Yes |
| MarketMuse | No | No | No | Yes | No |
| Ahrefs | Yes | No | No | No | Yes |
| BrightLocal | No | Yes | No | No | No |
| SparkToro | No | No | No | No | No |
| SpyFu | Yes | No | Yes | No | No |
Semrush: best for performing keyword research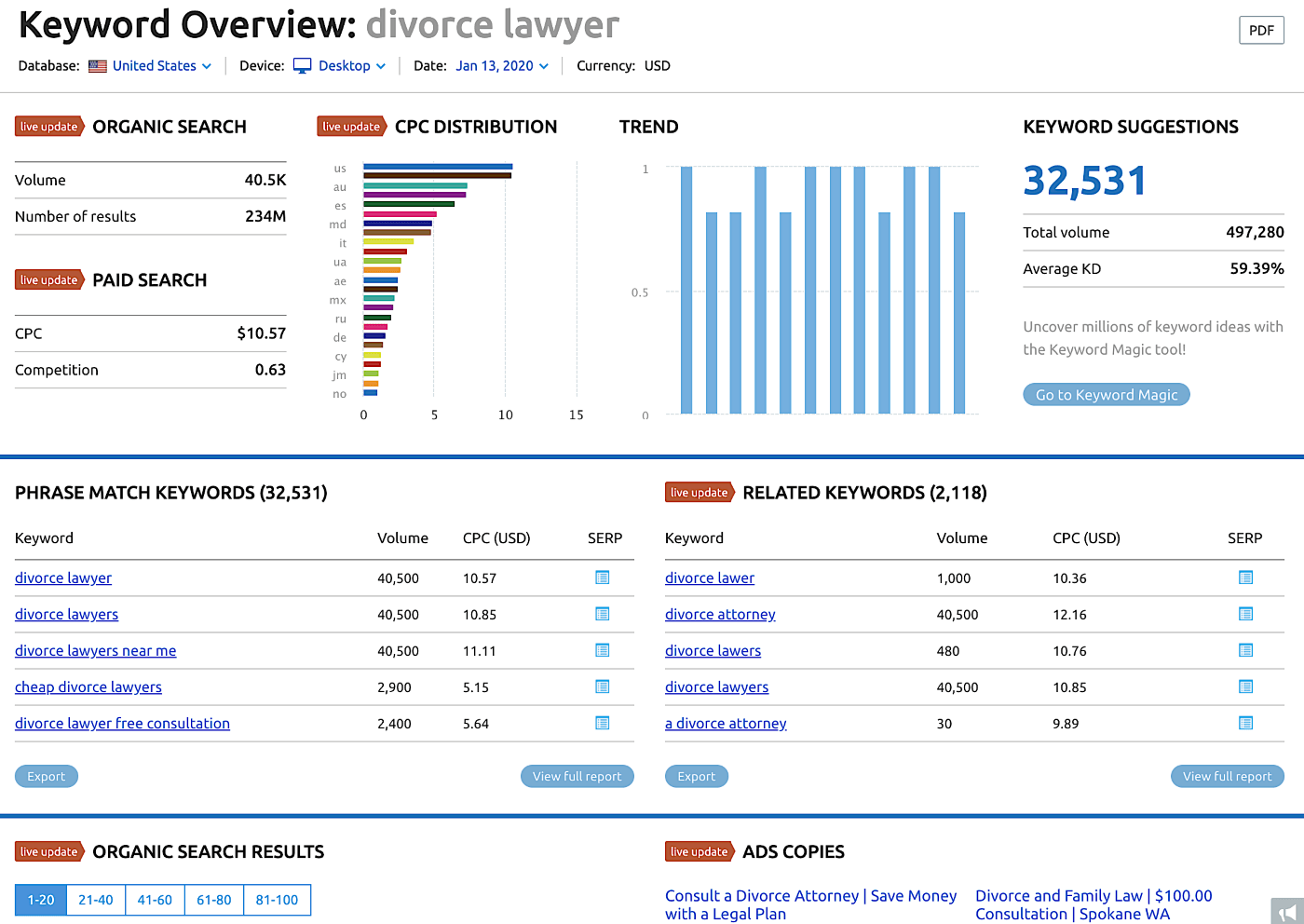 Semrush offers powerful keyword research tools to identify new opportunities and rank them based on search volume, keyword difficulty, and the amount of competition you'll face. The Keyword Magic tool provides access to a database containing over 20 billion keywords and allows you to input a single keyword idea to generate related long-tail keywords and niche combinations. You can also create a keyword masterlist for your site and analyze metrics for up to 1,000 keywords at once.
seoClarity: best for site audits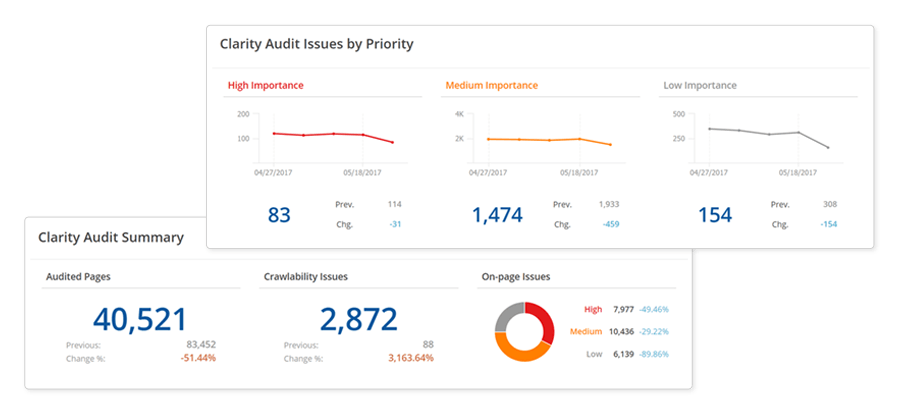 seoClarity performs website audits that include over 100 technical health checks, including broken links, 404 errors, and duplicate content. Unlimited site audits mean that you can crawl your site as often as you want, which is perfect for troubleshooting unexpected ranking dips. Along with finding technical issues, you can also quickly add meta-titles, descriptions, and alt tags for pages that are missing them. The reports are even customizable to only show the most important metrics.
Moz Pro: best for page optimization
Moz Pro improves your on-page SEO by auditing the content on your pages and making recommendations for how you can improve. Page optimization scores show you how well your pages are meeting searcher needs and provide guidance on what you can do to improve your score. You'll also get custom suggestions for new content you should create and the keywords you should include based on websites that rank for similar keywords.
BrightEdge: best for increasing your visibility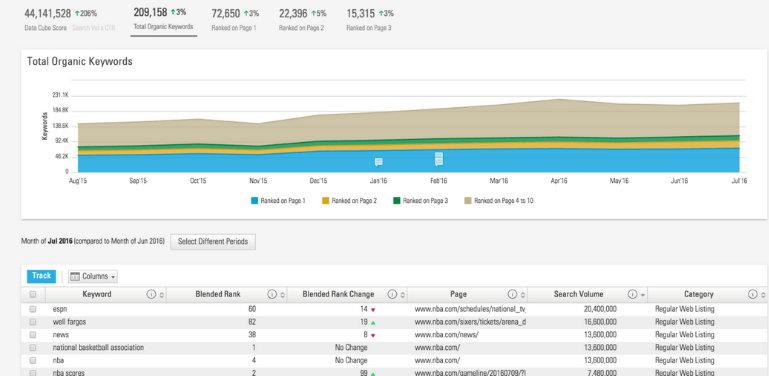 BrightEdge's recommendations focus on the intent behind search queries, so you know you're capturing the right audience. Their Share of Voice metric identifies how much real estate your content is taking up in search engine results pages (SERP) versus how much your competitors are taking up. This helps you prioritize your content plans and stay on top of changing trends. Compare your site to those of high-ranking competitors by viewing their H1 tags, meta-descriptions, and backlinks in a single dashboard.
MarketMuse: best for improving your content strategy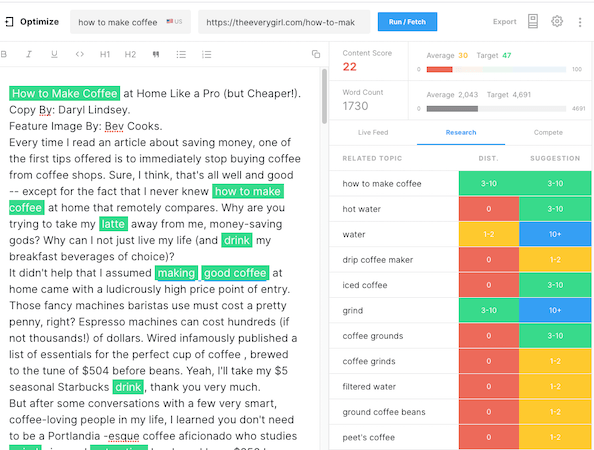 MarketMuse offers AI-powered content research to analyze how well your content covers your chosen topic. The in-app editor provides real-time feedback as you make changes and gives suggestions on new keywords to include as well as how many times to include them. You can also perform comparisons between your new content and competitors' high ranking content to exploit any topics they didn't cover and provide more value to your audience. With relevant keywords shown right in the editor, you can reduce your research time and focus on creating great content.
Ahrefs: best for generating quality backlinks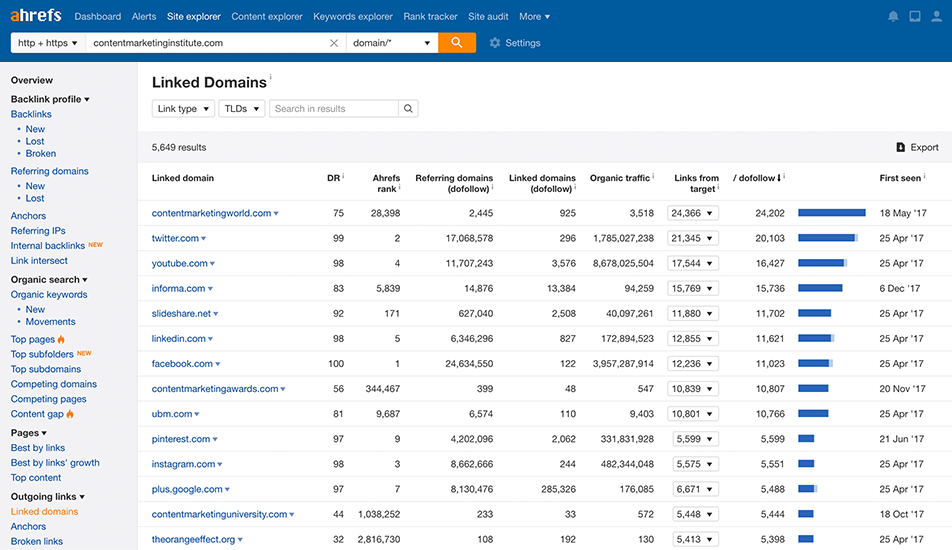 In addition to keyword research and site audits, Ahrefs helps you identify backlinking opportunities by analyzing domains that link to your competitors and ranking them by domain authority. If you already have an idea of a site you want to get a backlink from, you can review their outgoing links to see the kind of content and sites they usually link to and can craft your content to match their preferences. Alternatively, you can search your target website for broken links and reach out to them to offer content that they can replace the old link with. This provides value for them and gives you a backlinking opportunity.
BrightLocal: best for local search targeting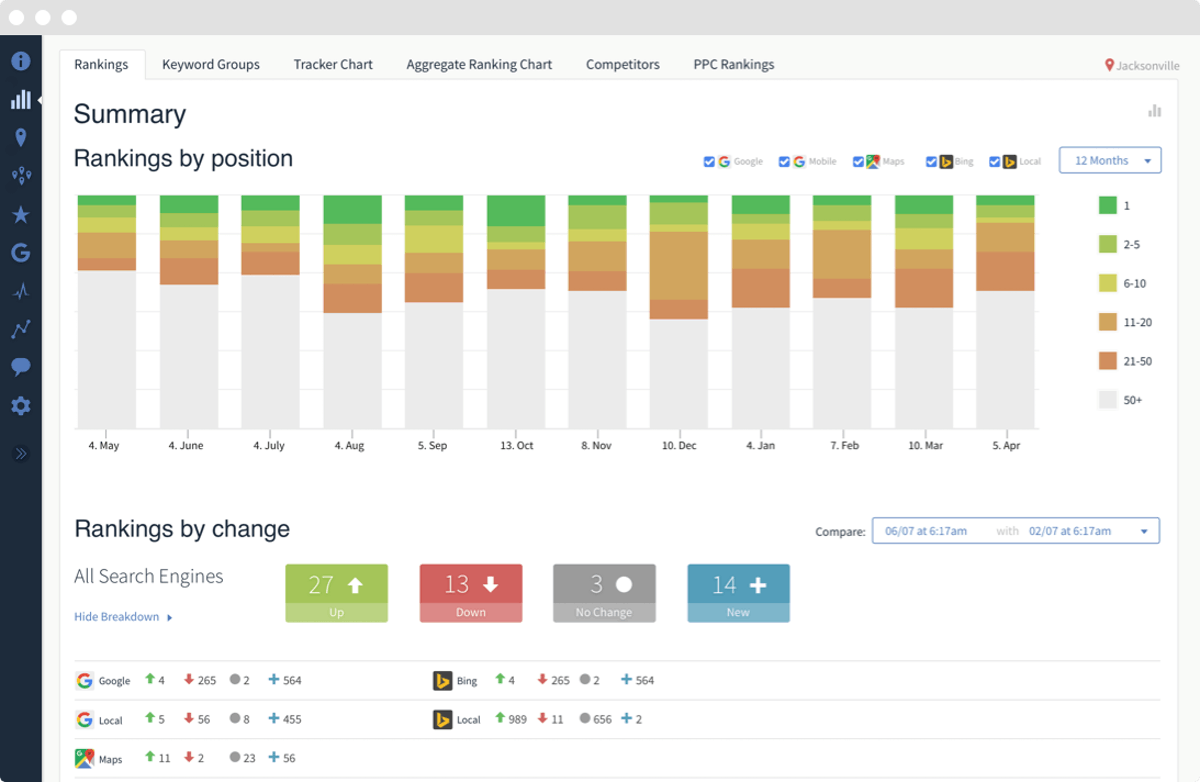 BrightLocal is best for businesses that focus on local traffic, like restaurants, in-person retailers, and onsite service providers. It provides localized ranking results and search data, so you aren't targeting a keyword that has 100,000 monthly search results worldwide, but only 10 in your area. Automated auditing tools identify unclaimed or outdated listings along with issues that might be hurting your local search results. There's also a Google My Business audit that monitors your listing daily and suggests changes to help your listing rank higher.
SparkToro: best for audience research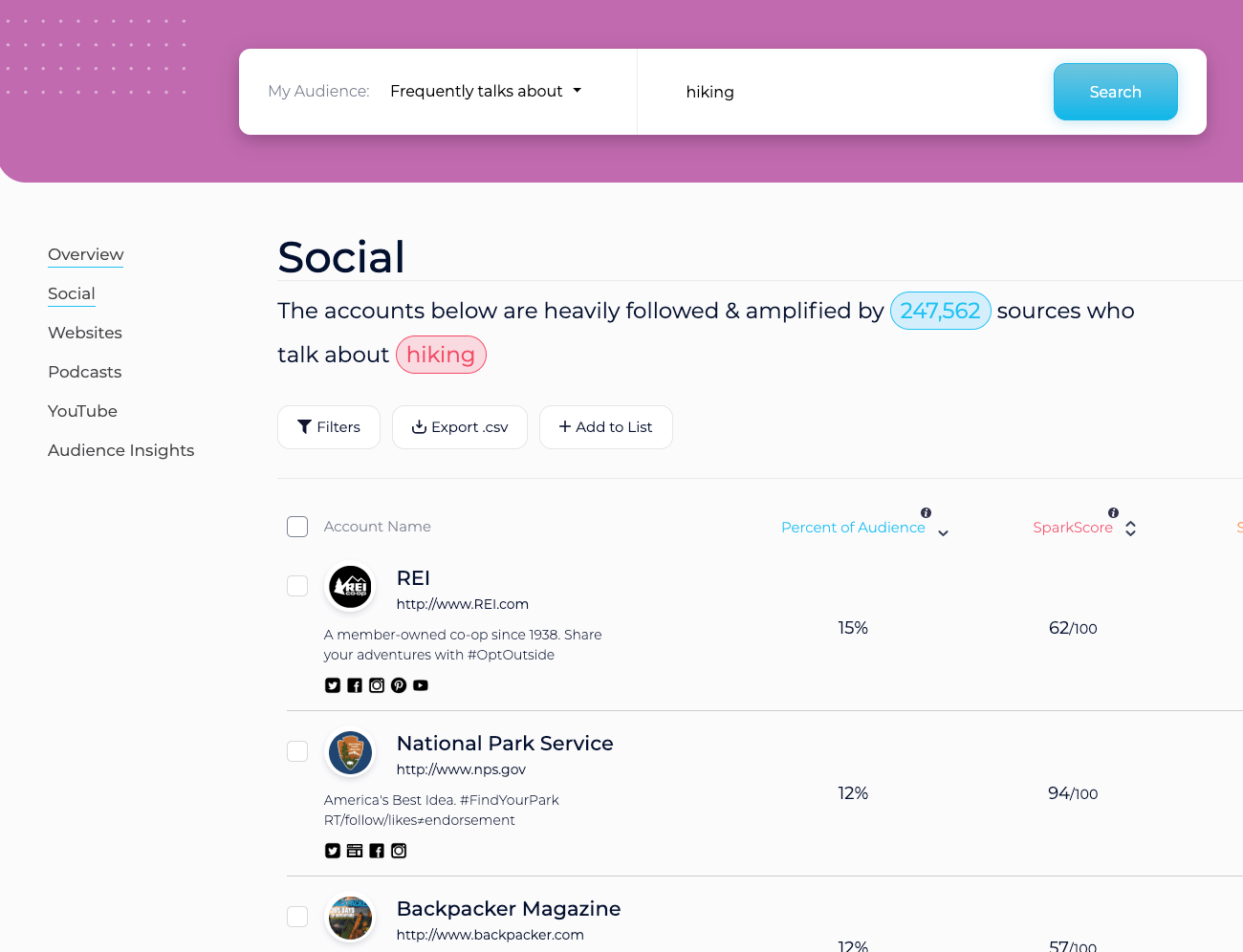 SparkToro is more of a standalone product than a full suite, but it still deserves mentioning on this list. It provides detailed audience research for both SEO and social media profiles. You'll see who your target audience is following online and the type of topics they talk about regularly. By analyzing your ideal audience, you can prioritize your content opportunities based on the things they're interested in and find new opportunities if you're in a content rut. SparkToro includes a free plan to let you test out the functionality, but for the best results, you'll need to upgrade to a paid tier.
SpyFu: best for SEO & PPC research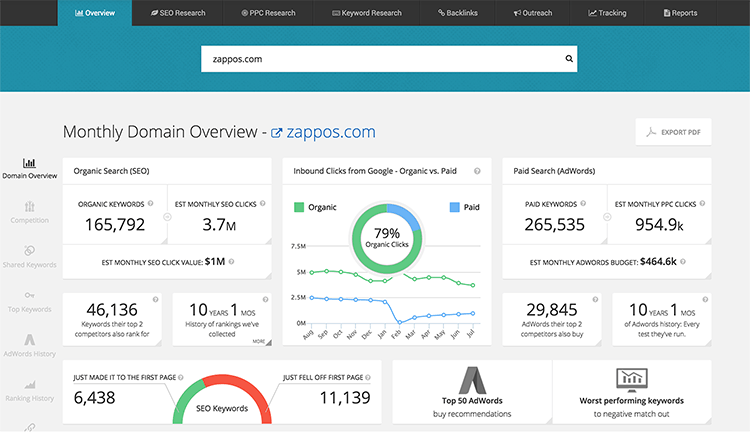 SpyFu is dedicated to competitor research, showing you everywhere that your competitors show up online, the keywords they've bid for in PPC, and historical ad variations they've run. The recommendations make it easy to grow your traffic through both organic and paid channels. And with the competitor spy tools, you can see all of the keywords your competitor bids on with PPC, how many clicks they get, and how much they're paying for each keyword. Not only does it offer competitor info, but you can also get reliable contact information for businesses and websites you want to reach out to.
Key features of enterprise search engine optimization tools
Enterprise SEO software covers a lot of different features to keep businesses from having to purchase more than one tool. Here are a few of the capabilities you should look for when choosing an SEO suite.
Keyword gap analysis
Keyword gap analysis crawls your website and similar ones to identify keyword opportunities for you to target. Gap analysis shows you a list of keywords, how you're ranking for them versus how competitors are, and the search volume and keyword difficulty. Using these metrics, you can determine which keywords make the most sense to go after for your content strategy and incorporate them into your campaigns.
Site audits
Enterprise SEO platforms should perform site audits to quickly identify broken links or images that could be harshly affecting your website's rankings. It will also test how quickly your pages are loading and highlight any slow pages that might be driving traffic away. Mobile-first indexing will tell you how well your site ranks for mobile searches and provides recommendations for making your website more mobile-friendly.
Competitor analysis
Similar to keyword gap analysis, competitor analysis crawls your competitors' sites to identify keywords that they're ranking well for that you aren't. You'll get to see the search volume for these keywords and decide which ones to go after. Along with keywords, you'll get to see which domains your competitors are receiving backlinks from to find new placements for your own backlinks.
Page rankings
SEO tools should show you how your page is ranking on search engines, so you can see which pages are performing well and which need some improvement. You'll see your current rankings for major search engines like Google and Bing, but also how your ranking has changed over the last reporting period. Ranking analysis should also show search volume to help you identify which keywords will have the most ROI if you target them.
Reporting
Identifying new keyword and backlink opportunities isn't enough for effective SEO. You also need to be able to track changes month after month to show whether or not your SEO strategy is working. Reporting capabilities show how your rankings and traffic are changing over time to help you see how your efforts are affecting performance. Some report options include ranking reports, backlink reports, and keyword opportunities.
Choosing the best enterprise SEO software for your business
When deciding on an SEO suite for your business, you have to consider which features are most important to you. Does your business only serve local customers? Maybe you have a competitor that's constantly outranking you. Enterprise SEO services help you solve a variety of issues and improve your website to rank better across the board.
Need more help finding the right SEO tools? Our Product Selection Tool provides customized recommendations based on your company's needs in as little as five minutes. Or you can give us a call at (877) 702-2082 to speak with an expert.
Tags :
Enterprise Search Engine Optimization Tools
featured